Description
C7 Pro has one of the best screens in the segment. Also, despite 95+ apps, the phone shows no lag or slowdown because of the 4GB RAM. A 4out of 5 for me – Hairsh Jonnalagadda, Android Central In terms of memory management, this phone is equivalent to any phone with 6GB RAM or more. A solid 4 out of 5 for the phone – Abhinav Pathak, PhoneBunch Galaxy C7 Pro has 4GB RAM – but it gives you a performance of a phone that has a 6GB RAM – Manas, Gaming Central.
Product Description
A social media manager or a blogger – no matter what profession you're into, it's important to stay connected throughout. Get your hands on the Samsung Galaxy C7 Pro and experience a glitch-free performance even when you use multiple apps, thanks to its 64-bit octa-core processor and 4 GB of RAM.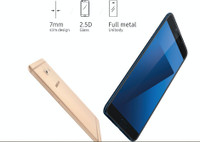 Slim yet Powerful
This phone is as good looking as it's functional – it features a full metal body with a powerful 2.5D glass and solid curves all packed inside a slim 7 mm frame.