Description
Even if you're a beginner in the art of cooking, you need to know a few basic and essential skills which would help you in the long run. This electric rice cooker from Prestige features a capacity of 2.8 litres, and comes with a number of features such as Cool-touch Handles, Close-fit Lid, and Detachable Power Cord, so you can cook quickly and easily.
Product Description
Whether you're part of a family or a working professional living by yourself, this electric rice cooker is an ideal addition to your home. With 2.8 litres of capacity and features such as Cool-touch Handles, Cook and Warm Indicators, and a Close-fit Lid, cooking rice was never this easy.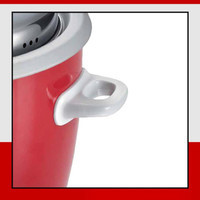 Cool-touch Handles
Carrying the cooker is made easy with these sturdy and durable handles. You can also use the slot in the handle to keep your ladle, making it easy when serving.